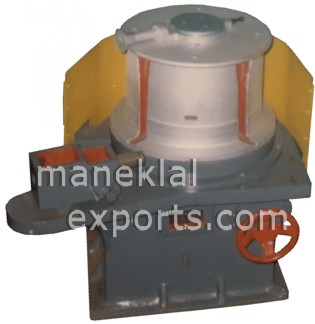 Heavy Duty Bull block Wire Drawing Machine
Fitted in-line with Main Ribbing Machine to pull and to coil the Ribbed wire
Features:
- Machinery to manufacture Cold Rolled Ribbed / Deformed Wire in diameters 3.5 mm to 12 mm
- Main Ribbing Machine made of heavy duty MS fabricated base frame on which a side support and movable support are linked with a stabilizing bar.
- Ribbing done by two Turk Heads each supported with three roller holders.
- A worm gear unit driven by geared motor unit moves each shaft axially in its support.
- Individual Turk Heads for adjustment of Rollers
- Water circulation in the machine provided for cooling
- All the roller holders controlled with a Digital Control
- Complete set of machinery offered including main Ribbing Machine and auxiliary machines like: Wire Drawing Machines, Wire Pointing Machine, Butt Welding Machine, Descaling Machine, Electric Control Panel Board, Automatic Wire Straightening and cutting Machine.
- Cold Rolled Ribbed / Deformed Wire is used in concrete reinforcement, RCC spun pipes, electricity poles, railway sleepers, precast units, runways, as skin reinforcement, slabs, beams, pre-stressed concrete units etc.