---
- The entire system is controlled by Electronic Panel based on Thyristor and D. C. Drive Control Panels

Manufacturing Process:
- Set the desired welding points (depending on the mesh size required) and start the machine
- The line wires from the Pay Off stands are fed to the machine from the rear side through wire guides.
- Cross wires duly pre-straightened and cut to length (equal to the required width of the mesh) on Wire Straightening and Cutting Machines (optional equipment) are dropped from the rack on to the welding station.
- The line and cross wires are rhythmically welded.
- The speed of welding is controlled through the control panel.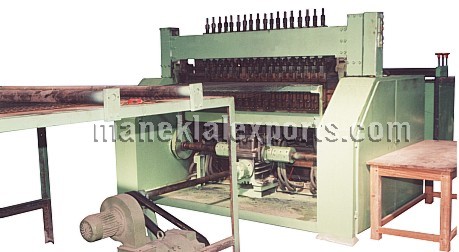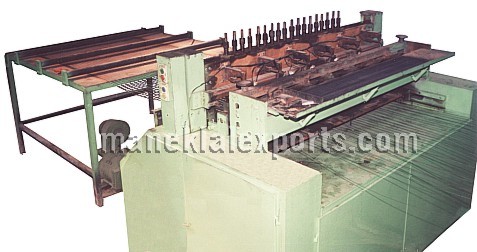 | | | | | |
| --- | --- | --- | --- | --- |
| Model: | WMM-12 | WMM-15 | WMM-25 | WMM-27 |
| Max. welding width (mm): | 1250 | 1550 | 2000 | 2500 |
| Line wire spacing (mm): | 15 - 75* | 25 - 150 | 50 - 150 | 50 - 200 |
| Cross wire spacing (Steplessly adjustable) (mm): | 15 - 75* | 25 - 150 | 50 - 150 | 50 - 200 |
| Range of line wire (mm): | 1.2 - 3 | 1.6 - 4 | 3 - 6 | 3 - 6 |
| Range of cross wire (mm): | 1.2 - 3 | 1.6 - 4 | 3 - 6 | 3 - 6 |
| Max. welding speed (strokes per minute): | 80 | 80 | 60 | 60 |
| Power load (kVA): | 200 | 200 | 350 | 400 |
| Welding Transformer at 50% Duty Cycle (Qty. / kVA): | 4 / 50 | 5 / 75 | 6 / 100 | 6 / 100 |
| Motor: | 12.5 HP D/C | 15 HP D/C | 20 HP D/C | 25 HP D/C |
| Net / Gross Weight (Kg.): | 3150 / 3800 | 4300 / 5000 | 6500 / 7500 | 7000 / 8000 |
| Overall Dimensions (m): | 2.5 x 1.5 x 1.8 | 3.1 x 1.6 x 1.9 | 4.0 x 2.0 x 2.2 | 5.0 x 2.0 x 2.2 |
| Shipping Volume (m3): | 6.8 | 9.5 | 18.0 | 22.0 |
*Note: Mesh size 15 x 15 mm only possible with wire diameter 1.2 to 1.4 mm in maximum width up to 750 mm
Mesh size 25 x 25 to 75 x 75 mm only possible with wire diameter 1.6 to 3.0 mm in maximum width up to 1250 mm

VIDEO OF WELDED MESH MAKING MACHINE
Standard Accessories: Welding Transformers, D/C Motor with reduction gear and magnetic brake, D/C Drive Panel, Electronic Control Panel (for Speed, Heat, Welding and Magnet), Line wire divider, Line wire guider

Auxiliary Equipment: Straightening and Cutting Machines, Automatic Coiler, Wire Stands, Repairing Gun (Spot Welder), Shear for cutting Welded Mesh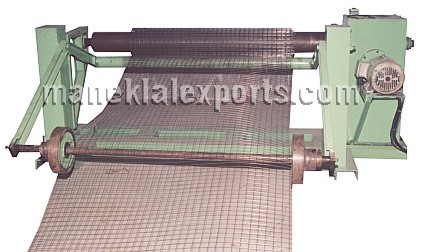 Automatic Coiler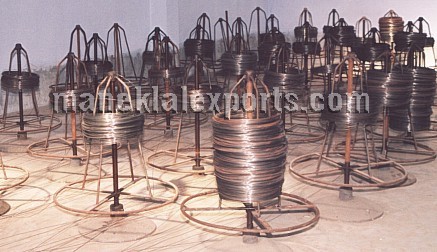 Wire Stands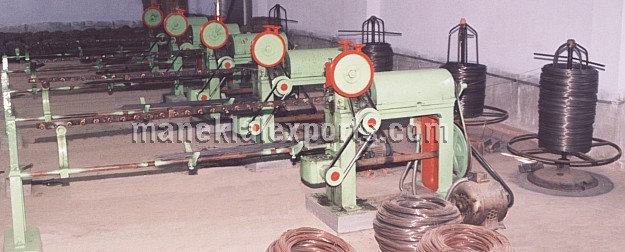 Wire Straightening & Cutting Machines
---
Maneklal Global Exports
67 Bajaj Bhavan, Nariman Point, Mumbai - 400021, INDIA
Tel: +9122-22041340 / 41 / 42. Fax: +9122-22041389
WhatsApp: +918879795490
e-mail: sales@maneklalexports.com / maneklalexports@gmail.com / Enquiry Form
---
---
---