Model
UCG-200
UCG-254L
UCG-254H
Max. diameter of swing (mm)
200
254
254
Max. distance between centres (mm)
450 / 600
500 / 625 / 750
1000 / 1250 / 1500
Height of centre (mm)
100
127
127
Table speed infinitely variable min. / max. (mm/min)
400 / 5000
400 / 5000
400 / 4000
Wheelhead and wheel feed
Grinding wheel (OD x Width x Bore) (mm)
300x25x75
350x40x127
350x40x127
Automatic cross feed of wheel at each left hand reversal of table (travel in two steps) (mm)
0.01 / 0.02
0.01 / 0.02
0.01 / 0.02
Speed of wheel spindle (rpm)
1750
1600 - 2090
1600 - 2090
Workhead
Speed of workhead (rpm)
80 - 150 - 270
60 - 120 - 212 - 380
60 - 120 - 212 - 380
Morse taper in workhead spindle
MT-3
MT-4
MT-4
Swivel of workhead
90 degrees
90 degrees
90 degrees
Morse taper in tailstock
MT-2
MT-3
MT-3
Internal Grinding
Spindle diameter (mm)
60
60
60
Max quill length (rpm)
70
70
70
Max. quill diameter (mm):
18
18
18
Min. / Max. diameter of hole grinding (mm):
16 / 60
16 / 60
16 / 60
Min. / Max. diameter of grinding wheel (mm):
15 / 40
15 / 40
15 / 40
Spindle quill speed (rpm):
18000
18000
18000
Electric Motors (HP)
Wheelhead motor
2.0
5.0
5.0
Workhead motor
0.5
1.0
1.0
Internal Grinding Attachment motor
1.0
1.0
1.0
Hydraulic Pump motor
1.0
1.0
1.0
Coolant Pump motor
0.15
0.15
0.15
Standard Accessories:
Common with all models: Motors with starter and belts, coolant pump with tank, grinding wheel, diamond dresser, set of service tools
with UCG-200 series models: Plain dead centre MT-2 (Threaded), plain dead centre MT-3
with UCG-254 series models: Plain dead centre MT-3 (Threaded), plain dead centre MT-4
Optional Accessories:
Common with all models: Internal Grinding Attachment, wheel balancing arbour, wheel balancing stand, wheel angle dressing attachment, additional wheel flange, two-point steady rest, three-point steady rest, true chuck flange
with UCG-200 series models: True chuck 110 mm, revolving centre MT-2, carbide dead centre MT-2, carbide dead centre MT-3
with UCG-254 series models: True chuck 135 mm, revolving centre MT-3, carbide dead centre MT-3, carbide dead centre MT-4, hydraulic tailstock
- Machine Bed: Made of high grade Cast Iron. Ribbed Box structure design, high quality stress relieved castings. Three point setup.
- Workhead & Wheelhead: Running on hydro-dynamic multi-point bearings. Cartridge Type. The wheel slide can be swiveled through +/- 45 degrees.
- Infeed System: Infeed is operated by precision ground cam. The movement of infeed slide (wheel slide) is based on hardened, ground and preloaded roller guideways, which guarantee stick-slip free movement and fine repetitive accuracy of +/- 1 micron. Plunge grinding at any desired approach angle up to 45 degrees can be done. Single lever operates the complete grinding cycle. According to the work piece requirement, the following grinding cycles can be selected: 1. Plunge; 2. Traverse with Infeed on L.H.S.; 3. Traverse with Infeed on R.H.S.; 4. Traverse with Infeed on L.H.S. and R.H.S.
- Automatic Grinding Cycle: It has a Rapid approach - Coarse Feed - Fine Feed - Sparkout and Rapid retraction of the wheelhead and the infeed handwheel to the preselected position. The cycle also controls Start / Stop of the workhead motor, coolant motor and table reciprocation. In case of a long job, the termination of the grinding cycle is selectable either at Left, Right or at any position of the reciprocating table. While internal grinding cycle is running, wheel slide always remains in retracted position. The Infeed and Fine feed as well as the feed rate of Coarse and Fine feed are selectable. There is an optional arrangement to equip the cycle with an in-process gauging device for direct measurement during grinding.
- Tailstock: Its upper part moves on hardened, ground and preloaded roller guideways. Facilities such as Fine taper setting of +/- 20 microns and hydraulic tailstock actuation are optionally provided
- Hydraulic / Electrical System: The hydraulic powerpack is equipped with solenoid valve, hydraulic pump, motor, etc., which is located outside the machine to avoid vibration & thermal distortion. The electric controls cabinet is also housed outside the machine for easy maintenance.
- Swivel Table: Table is arranged to swivel for taper grinding. Graduations at the right-hand end indicate taper on diameter per millimetres and the included angle in degrees. The graduated scale permits initial setting and a dial indicator can be attached to enable fine corrections to be applied by screw adjustment.
- Internal Grinding Attachment: The hinged type Internal Grinding Attachment with its independent motor is conveniently located on the wheelhead. It has a fast grinding action and can be quickly swung into a grinding position. The work piece can be externally and internally ground in one setting. Taper hole can be ground either by swiveling the workhead or the table. During the internal grinding operation, safety interlocking system provided avoids sudden retraction of wheelhead. The internal grinding spindles are run on precision fiber cage bearings. A wide selection of spindles is available depending on the requirement of the work piece.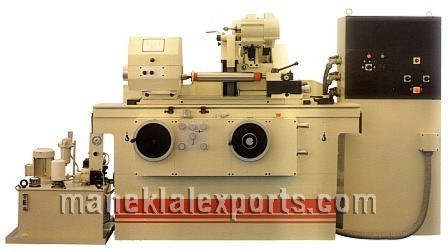 Specifications:
Model
HUCG-260
HUCG-350
Max. diameter of swing (mm)
260
350
Max. distance between centres (mm)
500 / 800 / 1000 / 1200
500 / 800 / 1000 / 1200
Height of centre (mm)
130
175
Table speed infinitely variable min. / max. (mm/min)
100 / 5000
100 / 5000
Wheelhead and wheel feed
Grinding wheel (OD x Width x Bore) (mm)
400x50x127
400x50x127
Speed of wheel spindle (rpm)
1500 / 1740 / 2020 / 2350
1500 / 1740 / 2020 / 2350
Workhead
Speed of workhead (rpm)
56 to 630 (in 8 steps)
56 to 630 (in 8 steps)
Morse taper in workhead spindle
MT-5
MT-5
Morse taper in tailstock
MT-3
MT-3
Infeed System
Rapid approach (mm)
40
40
Infeed with handwheel (mm)
20
20
Min. incremental on diameter (mm)
0.001
0.001
Swivel range
+/- 45 degrees
+/- 45 degrees
Max. plunge depth on diameter (mm)
1.7
1.7
Coarse infeed range on dia. (mm/min)
0.015 - 6
0.015 - 6
Fine infeed range on dia. (mm/min)
0.015 - 3
0.015 - 3
Spark Off time (sec.)
0 - 60
0 - 60
Internal Grinding
Spindle diameter (mm)
60
60
Spindle speed (rpm)
18000
18000
Accuracy - Roundness on Live Spindle
with standard equipment
0.002
0.002
with special optional equipment
0.001 / 0.0005
0.001 / 0.0005
Electric Motors (HP)
Wheelhead motor
5.0
5.0
Workhead motor
0.37
0.37
Internal Grinding Attachment motor
1.0
1.0
Hydraulic Pump motor
2.0
2.0
Coolant Pump motor
0.15
0.15
Standard Accessories: Common with all models: Motors with starter and belts, coolant pump with tank, grinding wheel, diamond dresser, set of service tools, Carbide dead centre MT-5, carbide dead centre MT-3, table mounted swivel dresser, wheel dressing attachment in tailstock, wheel balancing mandrel, live spindle drawbar with adaptor, two wheel adaptors for internal grinding spindle
Optional Accessories: Wheel balancing arbour, wheel balancing stand, two-point steady rest, three-point steady rest, precision 3-jaw chuck with adaptor and flange, precision 4-jaw chuck with adaptor and flange, wheel angle dressing attachment, radius dressing attachment, hydraulic side dressing attachment, machine lamp, magnetic filter with standard coolant tank, paper cum magnetic filter with special coolant tank, in-process gauging equipment, variable speed for workhead, variable speed for wheelhead
Standard Accessories: Grinding wheel, regulating wheel, two truing devices, single ended work rest blade, electric motors, coolant pump with tank, electric control panel, allen keys, spanners, set of wheel pullers and 'V' belts
Optional Accessories: Wheel balancing stand, wheel balancing arbor, additional wheel flanges for emery grinding wheel and regulating wheel, special work rest blades