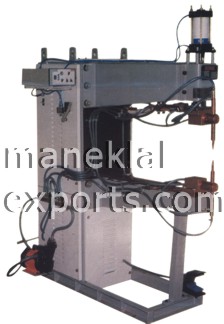 Features:
Construction: Heavily fabricated with streamline appearance, suitably stiffened at points of stress. Transformer mounted directly on to the body and bearings for the arm provided in the same.
Cooling System: Electrodes, Electrode Holders water cooled. Water should be free from residue forming impurities and at a temperature below 30oC. (If water temperature is higher, increased water flow required).
Electrodes: One Pair Morse Taper 2 straight electrodes supplied as standard with the machine. (Other types available on request)
Adjustment of Electrode Force: By means of Air Pressure. Force is adjustable and gives a constant force from 1 to 5 kg cm2 by pneumatic cylinder, adjusted by regulating valve.
Adjustment of Electrode Stroke: By vertical adjustment of Electrode Holder.
Current Control: By means of 6 tap change links between 50% and 100%
Weld Initiation: By means of foot switch which initiates the weld only after preset pressure is built up
Electronic Control: (A) Thyristorised synchronous electronic sequence timer consisting of: Squeeze, weld, forge, off and heat control unit range 1-99 c/s
(B) Solid State - three timers provided for Squeeze, weld and forge timings - short range 5 - 50 cycles - long range 1 - 10 seconds (50 to 500 cycles)
Applications:
- Spot / Projection Welding, Electro-Brazing, Cross Wire Welding, Resistance Heating and Soldering.
- Capable of Welding Stainless Steel, Brass, Phosphor, Bronze, Alloy Steels, etc.