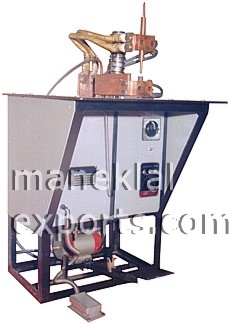 Features:
- Electrodes, Electrode Holders and Arms water cooled. Water should be free from residue forming impurities and at a temperature below 30oC. (If water temperature is higher, increased water flow required)
- One Pair Morse Taper 2 straight electrodes supplied as standard with the machine. (Other types available on request)
- Pressure on the Job obtained by means of heavy spring on the pressure rod at the back of the machine
- Adjustment of Electrode Force by means of a calibrated nut. Force is adjustable and gives a constant force from 100 - 200 kgf. with 30 kgf. applied on the foot pedal.
- Adjustment of Electrode Stroke by vertical adjustment of the lower electrode holder
- Current Control by means of 6 tap change links between 50% and 100%
- Weld Initiation by means of mechanically coupled switch which initiates the weld only after preset pressure is built
- Solid State Electronic Timer and Heavy Duty Electromagnetic Contactor provided as standard equipment with the machine
- Timings: Short Range 5 - 50 cycles. Long Range 1 - 10 seconds (50 to 500 cycles)
Applications:
- Spot Welding, Electro-Brazing, Cross Wire Welding, Resistance Heating and Soldering
- Capable of Welding Stainless Steel, Brass, Phosphor, Bronze, Alloy Steels, etc.