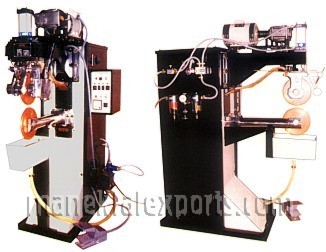 Features:
- Transformer fitted inside the body and upper electrode arm mounted directly on to the body
- Water Cooled welding transformer having core of high grade electrical steel, primary and secondary coils of solid electrolytic copper of ample section, heavy duty class 'F' insulated and vacuum impregnated, suitable to withstand continuous temperatures of 155oC
- Current Control by transformer taps - welding current adjustable in 8 steps from 55 to 100%
- Electrode control system - Upper ram actuated via a quick follow through device by a two-way pneumatic cylinder, controlled by a electrically operated solenoid valve. Compressed air at 15 to 110 psi acting on the pneumatic cylinder provides the necessary electrode force
- Circular disc type Top and Bottom Welding Wheels electrodes
- Variable Speed, reversible knurl / gear drive provided on top / bottom / both wheels as required. Drive power from a built-in 400 V, 3 Phase D.C. Motor, through variable speed reduction gearing to provide smooth and stepless variation of the welding speed
- Thyristorized electronic control consisting of Sequence Timers such as Squeeze, Weld, Cool, Hold Heat control unit
Application:
- Suitable for seam welding a variety of materials including Mild Steel, Stainless Steel, Aluminium, Galvanized Steel, Tin Plate, Terne Plate, etc.
- For all types of Drums, Barrels, Cans, Tins, Fuel Tanks, Mufflers, Utensils, Small Pipes, etc.