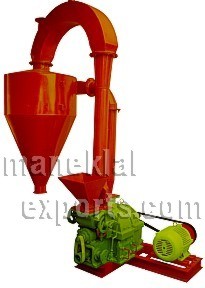 Features:
- Suitable for medium fine and fine size reduction of Minerals, Ochre, Clay, food stuff, crude drugs, pharmaceutical products, brass, zinc, dross separation, a wide range of chemicals, pulses, dyes, pigments, tobacco, coconut shells, saw dust, charcoal, etc.
- Grinds anything and everything this is not wet or sticky
- Depending on the material and setting, the fineness of the finished product achieved between 60 mesh to 300 mesh
- Unlike an ordinary Hammer Mill, the Impact Pulveriser does not have screens, which may break, wear out or clog in the crushing chamber
- Our Impact Pulveriser combine grinding, classifying and conveying in one single unit.

Principles of Operation:
The Impact Pulveriser consists of an encased Rotor carrying swing hammers, whizzer classifier for fineness regulation and pressure gradient creator mounted on a solid shaft. Raw material to be pulverised enters the crushing chamber through the hopper and the automatic rotary feeder. The impact of the hammers on the feed material against the liner plates reduces it into fine powder. The ground material is carried towards the whizzer classifier for classification and the oversize particles are rejected by the classifier and returned to the crushing chamber for further grinding. The classified material is then conveyed into the Cyclone for collection and bagging. A dust collector is provided in the system for ensuring dustless operation and for no loss of ground powder.