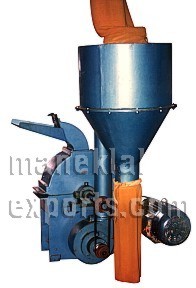 Features:
- Suitable for wide range of applications in a number of processing fields like Maize, Spices, Cattle Feed, Poultry Feed, Chemicals, Oil Cake, Tea, Coffee, Crude Drugs, Moulding Powder, Dry Soap, Charcoal, etc.

Operating Principle:
The material to be crushed enters the machine through a gravity feed Hopper having an adjustable slide to control the feed material. The material is crushed between the hammers and serrated liners. The ground material is continuously sucked by a powerful blower through a screen classifier and conveyed through a pipe into the Cyclone for bagging. The blower maintains a constant airflow in the Mill Chamber, because of which the product being crushed remains cool and the screen remains clean, thus increasing the output. Particle size of the ground material can be varied over a large range by using sieves of the appropriate openings.

Construction:
Made from heavy duty Mild Steel fabricated body. Grinding Chamber lined with serrated wear plates, which protects the body from wear and tear. Grinding done by a set of Swinging Hammers on a balanced rotor. A screen classifier forms the lower half of the grinding chamber. Blower is driven on a separate shaft with the help of a 'V' belt adjustable drive from the rotor shaft.